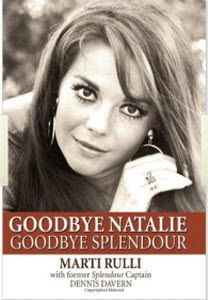 "Venus make her fair, I love the girl with sunlight in her hair,
and take the brightest stars up in the skies, and place them in her eyes for me....."
Frankie Avalon Tribute to Natalie Wood


In November 1981, A beautiful legendary Hollywood star was lost forever. But the mystery behind Natalie Wood's death lingers on. Just when one thinks it's been closed forever as an accidental drowning, new information seems to surface.

Even the day of her death is debated. Most accounts state that Natalie died on November 29, while other accounts state she died November 28.

Marti Rulli and Dennis Davern are making it their mission to get the truth out into the open concerning the actual events leading up to her shocking and untimely death. Marti is the author of "Goodbye Natalie Goodbye Splendour" and Dennis was the boat captain onboard the Splendour at the time of Natalie's death.

In fact, Dennis was the only other person on board that night, along with Natalie, her husband and actor Robert Wagner, and actor Christopher Walken.

In the book, Marti and Dennis suggest that the police investigation was insufficient, that the parties involved received special treatment because of their celebrity status, and that a grave injustice occurred when Natalie's death was brushed aside as an accidental drowning.

There were many unanswered questions. Why were the bruises found on Natalie never recorded in the official autopsy? Why did Wagner wait to radio ashore that Natalie was missing from the boat? Why wouldn't he allow Dennis to use the boat light which would certainly had help in the immediate search?

"Goodbye Natalie Goodbye Splendour" is a detailed account of events that led to the mysterious death of Natalie Wood. It is a story told by a haunted witness, Dennis Davern. Those of us of a specific generation remember hearing about the death of Natalie, and may even remember the details that were given out by the media. Now it is time to hear the story from the man who was actually on board that night, and has been living with the guilt that he somehow failed Natalie by not coming forward at the time with what really happened.

Marti Rulli and Dennis Davern are so driven to finally get the truth out to the public, that they have created a petition to have the case reopened. For more information concerning the petition go to: www.gopetition.com/petitions/natalie-wood.html

For more about Marti Rulli: http://www.martirulli.blogspot.com/

"Goodbye Natalie Goodbye Splendour" is available at www.amazon.com and Barnes and Noble

Join us on Thursday, March 11, 2010, at http://www.blogtalkradio.com/threewisegirls at 12:00 pm EST., as we talk to both Marti and Dennis concerning what really happened prior to Natalie Wood's death, and how the truth to what happened took on a very distorted spin with the help of the misinformed media, bad police investigating, and Hollywood influence. We welcome you to become a part of the conversation by calling in at 347.994.3835.