"The Predator is 100% biodegradable. It's friendly to the earth,
and can hurt you in a 100 different ways."
George Clooney

Most people know who George Clooney is. And quite a few have seen one of his latest movies, "Men who stare at Goats". But, I doubt if all of those same people have heard of Peter Brusso .... yet. The number of people that do know him is growing in huge numbers.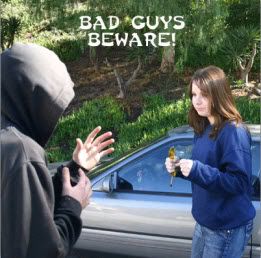 Peter Brusso is actually the man who inspired, in part, the role played by George Clooney, in the movie. The tool George Clooney is seen brandishing in the movie was invented and designed by Peter Brusso.

Peter Brusso took up Martial arts as a young child of six, due to an incident that happened at school. From that point on, he was destined to become a tenacious fighter.

Peter used his martial skills and warrior spirit in surviving the jungles of Cambodia for 10 months, during the Vietnam Era.

After returning to civilian life, Peter obtained a formal education from California State University at Sacramento (CSUS), where he'd earn a Degree in Electrical and Electronic engineering. He used his training to invent equipment used on a national professional sports level, enabling him to become a patent holder six times over.
Even with all these accomplishments, Peter has always kept martial arts very close to his heart. He is a subject matter expert for the US Marine Corps Martial Arts Program, both as an artist and as a learning specialist.
He holds black belt status in Hapkido, Wing Chun (sash), Ninjutsu, machete fighting, knife fighting, weapon disarms, and close quarter battle. He is also one of the few-registered Ninja's in America. He is also a filmmaker, and has written and produced several training films and movies on military history.
And ...he is currently in discussions with producers to create his very own reality show.
Join us at http://www. blogtalkradio.com/threewisegirls, Thursday, April 1, 2010 - noon EST - for an informative hour with this remarkable man. Debbie Barth is lead co-host this week with Dori DeCarlo and Linda Alexander commandeering the chatroom. We welcome you to call in at 347.994.3835 and talk with Peter. It's not an interview .... it's a conversation!
We invite you to visit Peter's websites at http://www.pdws.biz and http://www.awarriorsway.com.